S50U & ON4UN @ WRTC 2000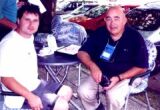 S50U AUDIO PAGE
S50U audio files :
21. Dec. 2008: Dave Anderson, K4SV from Tryon, NC made recording on me from today while I was CQ-ing on 1833,5 kHz. "Some QSB here but overall good condx between us" he said.
26. Apr. 2006: YX0A, Aves Island. YX0LIX had some QSB but up to 599 +10dB on 160m. Memorial call sign was adopted on Joe's YV5LIX death on the tiny Caribbean island April 21 during DXPedition. He was well known 160m operator.
21. Apr. 2006: Andaman Island on 160/80m. Two DL's Sigi, DL7DF as VU4AN/VU3RYB on 80m and few minutes latter Joe, DK5WL as VU4AN/VU3RYC on 160m was worked.
5. Feb. 2006: Wow ... what a night, weekend. WAS 160m (First S5) was finished with Walt, W7SE from Wyoming as last State. Propo wasn't ideal but Texas was very loud. Dave's W5UN new 4 sq. works flawless. He was 25dB over S9 around SR here.
4. Feb. 2006: Dennis, NT0V gave me North Dakota on 160m and one more to go (WY). I had big JA pileup in the evening with VK6IP and Mirek, VK6DXI who says: You had an outstanding signal on 160m last night. Conditions were rather poor, but you still managed to bend my S meter needle. When I gave you RST 599, you sort of did not believe me. If you are on broadband internet, I will send you an wav file with a recording of the QSO...How about that as a proof of a solid 599 report? Listen to S50U & VK6DXI QSO recorded by Mirek QTH 50 km near Perth, Austalia.
11. Jan. 2006: HL3IUA, VQ9LA both full scale on 160m. Charles, S9SS was on 1.836 running states. It's bad freq. in EU with strong carrier as 2nd BC harmonic 918 kHz 300kW of radio Ljubljana (S5). Playing with the buttons on my FT1000MP help somehow.
26 Dec. 2005: 80m: Tree N6TR/7 was loud 599+20dB 30 min. past SR here on 80m with his 4sq. Seems as pipeline between as.
26/27 Nov. 2005: CQWW CW: K5ZD 40 & 160m QSO recorded by Randy Thompson, K5ZD.
Find more audio clips on Randy's Contest Audio Live page !
QSO:7017 CW 2005-11-26 0630 K5ZD 599 05 S50U 599 15
QSO:1813 CW 2005-11-27 0234 K5ZD 599 05 S50U 599 15

27 Nov. 2005 CQWW CW: 160m: PJ2T, P40W & EU blind calling, HC8N

19/20 Nov. 2005: 3B8 Dxcc: 273 (Mauritius-3B8) by Slovakia, OM friends
1.823,5 CW CQ CQ DE 3B8/OM5RW ... Miro was simplex first when he logged me S50U than he start running split (alphabetic selection) : 5Z4DZ, DJ7MI, IK4WMA, LA2GH, LY3UM, S50A, S54E, UR0MC, UR5ZD, UR6QA .....
S50U SSB files :